Old Sarum is the perfect location for learning to fly or enhancing your skills.
Built on chalk, the grass runway has never been waterlogged, and the scenery is stunning.
The Isle of Wight is only a short flight away, and the Channel Islands and France are not much further.
With a range of resident flying schools and instructors, we are sure there is something for everyone.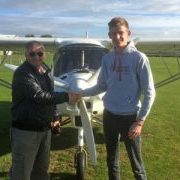 Our flying schools can offer most of the current licences available in the UK, although we don't have a gliding school, or airship or hot air balloon instruction.
It is a good idea to do some research and speak to our instructors to decide which licence will suit you. A list of our flying schools can be found in our Business Directory.
---
RADIO TELEPHONY (R/T) EXAMS
If you are learning to fly, it is wise to also learn to use the aircraft's radio. If you are learning at Old Sarum, it's a must!
You will need to gain a Flight Radiotelephony Operator's Licence (FRTOL), for which there are two exams – a written paper and a practical exam. Both exams may be taken at Old Sarum, where we have a CAA approved examiner.
Most people will be able to pass the written exam through self study. However, it is unlikely that a candidate would pass the practical exam without tuition.
Practical training is by far the best preparation, so you are strongly advised to arrange instruction. Tuition is available on Wednesdays and most evenings, with sessions lasting 1 - 3 hours.
Contact us for more details.
Practical exam
The exam is conducted using a radio simulator.
You will be provided with all the necessary information that will enable you to 'fly' a simulated route. You will be expected to be able to make all the appropriate RT calls to enable you to:
Take off from a full ATC airport (calling for taxi, departure etc)
Requesting en-route services, (eg Basic, Traffic, MATZ penetration etc)
Make an urgency (PAN) call
Make or relay a distress (Mayday) call
Make full position reports
Request airspace tranist (VFR & SVFR)
Join the circuit at an ATC, AFIS or A/G airfield
Make a diversion
Make use of any en-route facilities, (eg tune into and monitor an ATIS)
All tuition is charged at £20 (inc VAT) per hour.
Instruction, both for the theory and practical exams, can be booked in person at the Airfield's Skies Café or by email.